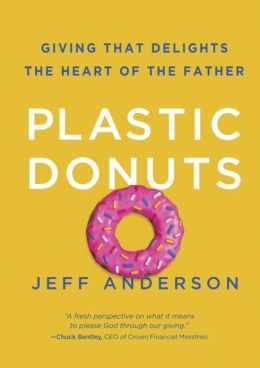 © 2012 Multnomah Books, Colorado Springs
Sometimes it takes the act of a child to get our attention. That's what author and financial advisor Jeff Anderson discovered when his young daughter presented him with, you guessed it, a plastic donut.
The gift which became a happy game between father and daughter made this money-numbers man begin to think about his own faith and giving habits. After all, the toy was one of the toddler's prized possessions. She wanted Daddy to have something special—and it delighted her to give it while delighting him to receive it.
Anderson's point in the entire book (readable in one or two sittings, depending on your rate of reading) is that those of us who are God's children should get to the place of giving to God that which brings us most pleasure—and that in turn will bring Him most pleasure. The author makes the point that if one of his older sons brought him a plastic donut it would be little more than a joke, nor would the gift be well received.
Anderson addresses two of the most common giving traps into which Christians fall today:
First, there is the "give until it feels good" group—these are the people who give of the passing thought to God. Much like in the story of Cain and Abel in the Old Testament book of Genesis—we give to God out of our sense of duty, but only that which will not bother us to give. Consequently our churches are filled with untunable pianos, broken-down toys, and second-hand furniture that wouldn't sell in the rummage sale. And we wonder at the state of our spiritual lives.
The other group (at another extreme) are the "give that 10% and not a half-penny more" givers. These are the modern-day Pharisees who have developed a legalistic view of tithing to go along with their legalistic view of worship, service, and church in general.
Anderson does not espouse not tithing, but he suggests that we, in our giving, can get to the place where the tithe doesn't matter so much as the pleasing of God. What does God want from us? The very heart of us—that which brings a smile, a giggle of joy, a glow to our face—and when we give that, He returns that smile, that giggle, that glow from His very throne.
This is probably the best book on giving that has been published in a number of years. The author's message moves us from no giving, and slow giving, to meaningful living giving. I'd recommend this to every Christian who wants to take the drudgery out of the Christian life, one plastic donut at a time. (4 out of 5 reading glasses)
—Benjamin Potter, August 9, 2013